Sydney, Australia is one of the most beautiful places on the planet and there is no better way to experience the great outdoors of Sydney then on a mountain bike. There are so many great bike trails that are designed specifically to be ridden on a mountain bike. The trails are all highly rated by people who have varying levels of riding skills.
There are a number of mountain bike trails available, so, regardless of whatever your riding skill level is; beginner, intermediate or advanced you will have several trails to choose from. There are dozens of trails established throughout Sydney and we put together a list of the top 10 mountain bike trails
Top 6 Mountain Bike Trails in Sydney, Australia
The Oaks Fire Trail – Woodford to Glenbrook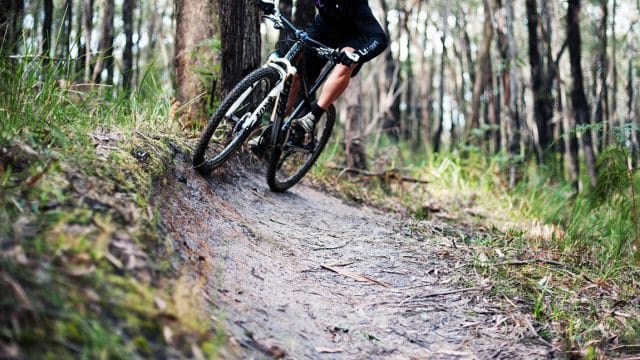 The Oaks Fire Trail is one of the most popular of all of the mountain bike trails in Sydney. The track is extremely fast with an overall descent of over 1014 meters down to the lower level and the overall trail is 28 km in length and provides 3-5 hours of riding enjoyment.
The grade is rated at a medium, but the with 80% of the trail is downhill, it is not overly difficult to ride no matter what your skill level. The trail is perfect for everyone regardless of riding skill from beginner to advanced will find plenty of things that they like about the Oaks Trail.
Narrow Neck Peninsula Trail
The Narrow Neck Peninsula Trail is a unique series of riding trails that span the ridgeline of the Blue Mountains and descends down into the Megalong Valley. There is so much to see on the 3-5 hour mountain bike ride with several scenic turnouts that provide majestic views. The grade is considered medium and depending on your riding skill level will depend on how fast you should be able to ride down the trail. Depending on where you start your ride, the distance of your ride will be 22 km to 35 km.
Discovery Trail – Katoomba to Leura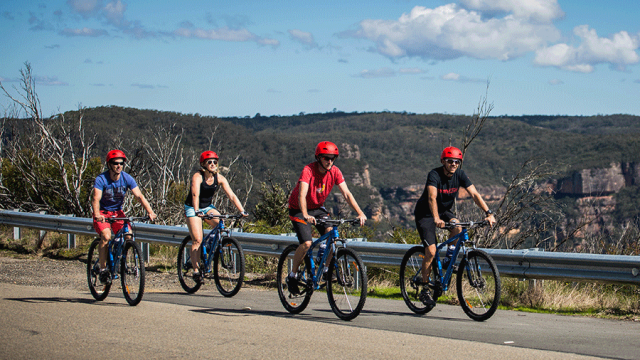 The Discovery Trail is aptly named as you are taken through the most scenic areas of the Blue Mountains and Sydney, Australia. This Amazing bike trip from Katoomba to Leura can be ridden in 3 to 5 hours depending on your riding skills and whether or not you want to make stops along the way to check out the most amazing scenery you can imagine in your life. The ride length runs 15 km to 40 km depending on your riding choices and the time will again depend on your stops.
Hanging Rock Trail
The Hanging Rock Trail is another unique trail in it can be combined with other trails to extend your ride and experiences or you can just enjoy it by itself. The trail ride itself includes seeing one of unique rock formations in Australia, Hanging Rock. The views of the valley below from the mountain ridge are quite spectacular and then you descend into the valley below and you get some more breathtaking views. The trail is considered a medium grade and there are plenty of places for you to stop and enjoy the scenery. You can also combine the Hanging Rock and the Anvil Rock trails together to make it an extended ride.
Anvil Rock with Perrys Lookdown Trail
Anvil Rock and Perry's Lookdown Trail is a little bit of trek and it can be gotten there by train or you can connect to it via the Hanging Rock Trail. This will probably truly depend on the riding ability as it is one heck of an additional bike ride to include them both in a day's trip. However, you definitely won't be disappointed by the views along the way and as you get the Anvil Rock. They are some of the absolute best views you can imagine. The total length ride if linked to Hanging Rock Trail is more than 40 km and will be one heck of a ride.
Great Blue Mountains Trail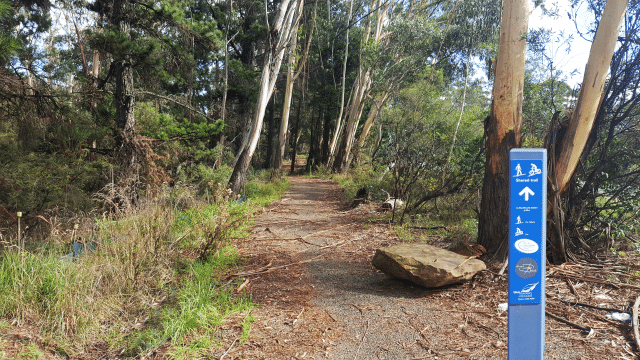 The Great Blue Mountains trail runs from Katoomba/Leura to Blackheath and winds the Blue Mountains across the ridgeline and descend into the valley. The trail is more than 35 km and can be ridden in 3 to 5 hours or longer depending on your riding skills and how many stops you want to make along the way. There tons of scenic turnouts for you to stop and view the scenery as your riding. It can be enjoyed by riders of all skill levels including beginners who shouldn't have any trouble navigating the trail.